In Praise of Retention
Position your dealership to be "first" and grab more parts and service sales dollars! In the quest to generate more customer pay parts and service dollars, it pays big to position yourself to be "first"---- first to recommend needed vehicle maintenance and safety...
A Viewpoint on Loyalty
You are thinking that you need a retention program to move your business model to the next plateau, but you are not sure of what to expect? I have been training and installing retention programs for dealers for close to 13 years and here is what I know. A...
It is time…
As the automotive industry adjusts to a new paradigm in how to run the retail operation, it is time to think about how your sales and service departments conduct their business. Historically, there has always been a disconnect between these two...
Reinsure Your Retention Program
Dealers for years have been reinsuring their service contracts to help increase F&I income and store profitability. I do not think we need to get into the benefits of this profit center for every dealer in the United States and how important it is. A trend we...
Does your branding work?
My career has necessitated a lot of air travel over the years and during that time I only flew one airline, so I could get all the points and perks that go with an airline trying to make me a loyal customer. And they did. For about fifteen years I never flew...
The New Normal
Everyone is trying to figure out what that is going to be as we prepare to tiptoe back into the water. There are many questions we need to address that we have never had to deal with. How do we convince our customers that it is safe to come to our...
Working Around COVID-19
As I sit in my home hunkered down against the virus, I can't help thinking about different ways we can work together to help all of the members of the Dealership for Life family. Many of us have taken this time to ramp up their communication with their customer...
It is more than just a word
We throw a lot of words around when we get into a discussion of Customer Retention. Words like loyalty, rewards, benefits, marketing, communication, value, etc. The word we do not spend enough time on is Culture! Having assisted dealers over the past 10 years with...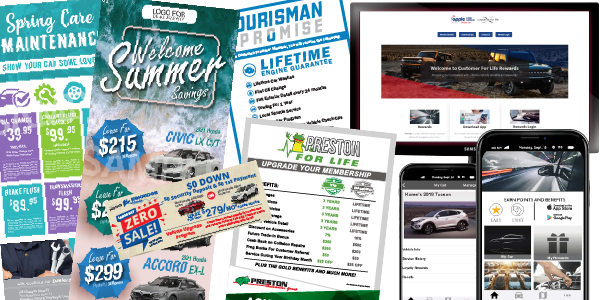 Hidden Profit Centers
When the industry slows down we must take advantage of every avenue to maximize and create new income streams. Most business leaders already know that the Service Drive and your Database are untapped revenue streams in need of the right program to tie into. The...